Bellringing at St Mary's, Acton
The sound of ringing church bells is deeply rooted in British culture. Almost everyone in Britain lives within ear range of church bells. These bells throughout the ages have provided the grand soundtrack to mark our most historic moments. Indeed, they ring out during times of celebration ……… or toll in empathy to convey our grief.
At St Mary's we have 6 bronze bells made by Rudhalls of Gloucester. In 1724 these bells were transported by boat along the river Severn to Atcham Bridge before continuing their 30 mile journey by horse and cart to St Mary's, Acton.
We are fortunate to have a very good band of bellringers at St Mary's, Acton – who dedicate their time and skills to continue the tradition of ringing bells for church services, weddings and other important events. A 'Practice Night' is held on most Tuesday evenings from 8pm.
If you would like to visit the bell tower or you would like to learn to ring, you will be made very welcome (please contact Carole Sturgess on 01270 623290).
Platinum Jubilee Ringing at Acton Church
The Central Council for the Guild of Church Bell Ringers asked that ringing for Her Majesty the Queen's Platinum Jubilee should be coordinated for 11:30 on Friday 3rd June 2022
English change ringing, more-or-less as we know it today, began in the seventeenth century with the bells being hung on a frame and rung using a rope around a full wheel. The development of better bell control led to the introduction of change ringing and the methods that are known today in which the sequence of bells alters every time they are rung.
Bells are rung in groups of up to twelve bells (as at Liverpool Cathedral) but are more commonly hung in groups of eight (as at Nantwich and Bartholmley) or six (like Acton and Wrenbury).
Bells are rung to call people to prayer and to celebrate marriages or funerals, when the ringing of a bell was said to keep the devil from the deceased's soul. They are also rung at times of national celebration and have been rung for previous Jubilees, the turning of the Millennium, the Olympic Games in London and the end of the Second World War. The Olympic Bell, cast for the London Olympic Games, is the largest harmonically tuned bell in the world. For such national occasions ringing is coordinated across the country at a specific time.
Acton Church Tower has a lovely set of six bells although there hasn't always been six. The tower originally contained five bells hung on a substantial metal and timber frame on the floor level with the louvres in the tower. The five bells date from 1604 to 1633 but a sixth was added in 1724. In 1757 a dramatic storm on 15th March caused the top of the tower to fall through the church roof. Following this the tower was remodelled some six metres lower than it had been originally and required substantial rebuilding of the nave. In 1759, after the storm damage to the tower and church was repaired, the bells were rehung.
Two of the bells were repaired in Gloucester in 1773 and, just over a century later, the bells were re-tuned and re-hung in 1894.
The bells are inscribed as follows:
(Treble) I to the Church the living call and to the GRAVE do summon all – 1724
(2nd) God Preserve ye Church and Place, and send you everlasting peace – 1724
(3rd) Thomas Pinnel, Randle Major, Church Wardens – 1773
(4th) Richard Darlington, John Darlington, Church Wardens – 1724
(5th) Peace & Good Neighbourhood. AR 1724
(6th) Peace & Good Neighbourhood AR 1724 This is the tenor bell which rings the note of 'F' and weighs 14 cwt (711.2 kg).
The bells were cast by Rudhalls of Gloucester and were carried up the River Severn to Atcham Bridge by boat.  From there they were transported by horses and wagons to Acton, more than thirty miles across country, along unsurfaced roads.
By the late 19th Century, women began to take up bell ringing.  Miss Alice White of Basingstoke was the first woman to complete a full peal in 1896.  As more women became interested, the Ladies Guild of Change Ringers was formed in 1912.
The six bells in Acton Church tower require a band of six ringers.  A band of six lady ringers assembled to ring the bells for the Queen's Platinum Jubilee on Friday 3 June 2022.  It was an experienced band.  Learning to ring can take several years to develop the skills necessary to ring church bells competently.  Together, the band of six women who rang for Her Majesty's Platinum Jubilee, has a total of over 160 years of bell ringing experience and they range in age from their twenties to their seventies, proving that ringing can be for anyone.  Some started learning to ring at a very young age and others much older with one ringer not starting until she was in her sixties.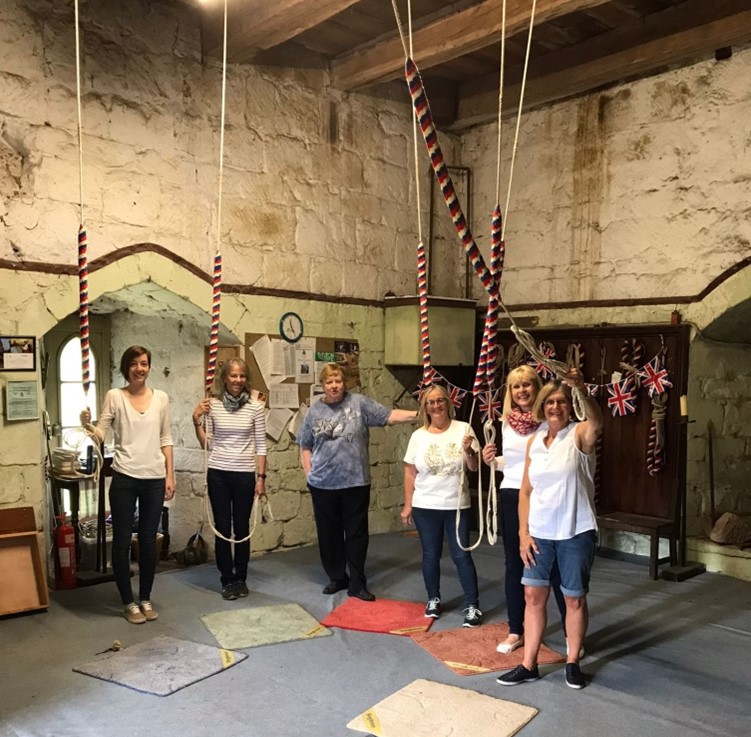 Ringing for the Platinum Jubilee took place between 11:30 and shortly after mid-day with the bells being rung continuously during that time. One of the bell sequences rung on the day is called Queens, in which the bells are rung in the order one, three, five, two four six, appropriate for the Jubilee. The ringers were Fanny Weiss on treble, Chris Owen-Roberts, Marion Moulton, Heather Newton, Leona Edge and Carole Sturgess on tenor.
Chris Owen-Roberts 10th June 2022